Applying the action wheel
The alternative interview
Applying the action wheel
How to help people come to an achievable resolution?
The action wheel helps people make a decision that leads to achievable actions. You can guide people along the five steps of the wheel — and it may help to show them a picture of the wheel during your conversation about it. At the end of the five steps, the action wheel cycle has been completed and the conversation can be concluded, at least for that moment.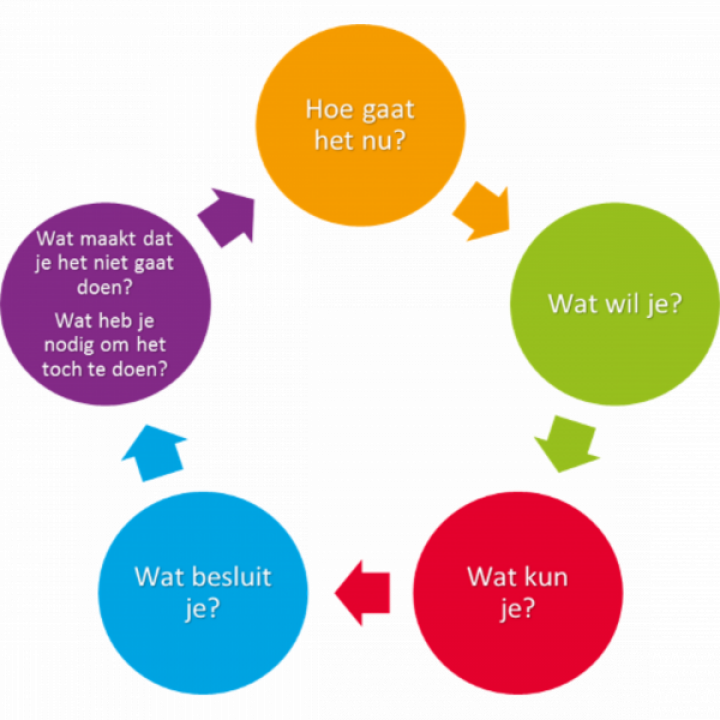 These are the steps to take
Step 1. How are things at the moment?
The results from the spider web will help to answer this question. What catches your eye, when you look at your spider web results? How do you think you are doing?
Step 2. What do you wish for?
What is important to you? Looking at the results from your spider web, is there something that you would like to pay more attention to or change? And if so, what would that be? And do you really want that? This could be about taking a small step towards achieving your dream, or about something that bothers you and that you would like to change.
Step 3. What can you do?
This question is about what you are truly able to do — what is feasible. Can you be honest with yourself about that?
Step 4. What will you decide?
What will be your first step? Make sure it is relatively small and feasible. This will help you persevere and will increase your confidence in taking the next step.
Step 5. What would be the reason for you to actually do this (or not)?
This final step is about overcoming possible aversions — a human trait. It is important to be aware of your aversion and to talk about it. This will prevent you from being disappointed in the process, later on. In this respect, the following questions are important:
5A. What would cause you not to act?
What is the result of your aversion? Are you too busy, or do you simply not feel like doing it, after all?
5B. What would need to happen for you to do what you must do?
This is a question that only the people themselves are able to answer. Asking it may help provide insight into what they would need to ensure they take that first step.
A few tips:
Ask people to read their answers (i.e. the advice they give themselves) aloud. This will enhance the effect!
Ask them to bring a picture of something that would illustrate part of their dream or goal. Such a picture may support the conversation.
Source
The action wheel is based on an approach used by the Atma Institute. iPH uses the action wheel in training courses on Positive Health.